Yes its that time for moving again. I have to move branches for work. From Korat to Bang Saen is not too far and Bang Saen is a town well known to me and my family as are the staff at work. So this time it should be a relatively easy move. However, working abroad always comes with its little hoops to jump through.
Laos and Visas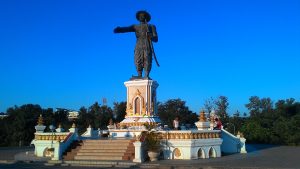 The first one is the visa and work permit changeover. This time that means cancelling everything, going to get a new visa and then reapplying again. To date half of that is done and by the end of next week, hopefully the rest. But it is not all bad news because getting a new visa meant a trip to Vientiane, Laos which is a place I love. This time I took my wife, Jeab with me and it was great to see her have such a good time as we added some leave time to the trip to relax a little. The last few years have been difficult at times on our family, so this was a wonderful few days.
Bang Saen and Moving into Apartments/Condos
Next up is the trip to Bang Saen to get the work permit sorted out. It also means arranging at least temporary apartment or condominium accommodation for the start of next year. Yes the new position starts on January 1, or at least the first working day after that.
Having lived in Bang Saen before for a decade it should be easy enough and I still know the lie of the land. However, in the past few years hundreds of condo and apartment blocks have gone up, so its really like a new experience too. The good side of that however, is competitive pricing.
The best bit of going back to Bang Saen is it is where my daughter Lena grew up and so is where she knows as home. She will be happy and that makes me feel good.
2017 is going to be a great year.
And moving like most things is not the end of the world. It is really about making the most of the positives and downplaying the negatives.